Horticultural Hints – March
March 2017
There's skunk cabbage blooming so it's last call to get ready for spring!  Have you (1) ordered your seed, (2) cleaned, sharpened and otherwise readied your tools for the season, (3) cleaned containers to hold spring and summer annuals?  Speaking of annuals, did you know that Needham was once the capital of pansies and still holds a pansy festival every year?
Get in shape for gardening.  We haven't had to shovel a lot of snow this year, so if you have had a sedentary winter, start getting yourself in shape for the chores ahead of you.  If you belong to a gym, go and ask advice on the best exercises for a gardener.  If you don't belong to a gym, begin with brisk walks, perhaps while carrying a couple of extra pounds in the form of weights or cans stuffed in a jacket pocket. Try some gentle bending and twisting.  When you do start to work in the garden, remember you may be a little out of shape and take it easy on yourself.
The Glory of Spring Bulbs.  Unless we get another snow storm, you should begin seeing green shoots from your early blooming bulbs soon.  When you do, sprinkle a small amount of bulb fertilizer around them.  I stay away from bone meal because it attracts squirrels and other meat eaters who may then dig up and sample your bulbs.
Keep filling birdfeeders.  Even with the snow gone, there's little for the birds to eat in our landscapes so keep feeders filled.  The birds will pay back the good deed by eating hundreds of caterpillars and other bugs in the spring, eliminating the need for pesticides in your garden.
Stay on your paths.  Now is not a good time to stroll around your lawn to inventory every corner.  The ground is very soft from the melted snow and recent rains.  Walking on the lawn or in garden beds will leave footprints and compact the soil.  Once compacted, soil is slower to absorb water, more difficult for roots to pierce and generally a problem for the gardener.  Stay on paths unless there is an urgent need to inspect an area.
Horticultural Oil is Your Best Friend in March.  One of the first lines of defense in the spring is a good spraying of horticultural oil before pests – such as the winter moth caterpillars – begin hatching.  Left unmolested, winter moth and gypsy moth caterpillars will devour the leaves on trees and shrubs including your oaks, maples, apples, blueberries and others.  Spray on days when the temperature is above 50° and will not drop below freezing that night.  Horticultural oil can actually suffocate and kill the eggs before they hatch, with very little risk of danger to the plant or native wildlife.  Remember, though, horticultural oil will only reduce the population, not eliminate it because many eggs were laid high up in trees where we cannot spray.  Nevertheless, it is a worthwhile first step in pest control.
Time to trim Hydrangeas. While the ground is frozen, finish up your winter pruning.  Remove the branches of hydrangeas that bloomed in late summer and fall as well as summer and fall flowering clematis.  Can't remember when your hydrangea bloomed?  One hint is if dried flower heads still remain they probably bloomed late.  This year, take photos and put them into a folder by month so you don't have to guess next spring.  You do not prune the native oak leaf hydrangea unless it is for size or has been damaged.
Indoor Plants.  Not every day is good for outdoor gardening, but now is a good time to do some work indoors.  Transplant houseplants now to prepare them for a spring growth spurt.  Always use a clean pot.  Scrub salt and dirt from old pots and rinse out new pots before using. Remember to never put a plant into a pot more than one size larger than its current pot.  Otherwise it will disappoint you by spending more energy growing underground than up top.  Prune dead or circling roots to encourage new ones to form.  Always remove dead leaves, old flowers, and any salt that have built up around the stem of the plant or on top of the soil.  And don't forget to wash the leaves to remove dust from them.  Finally water thoroughly but do not let the plant sit in the water that has drained through.
Previous years March Hints:
Last call, First call.  Early March is your last opportunity to order seeds and clean tools before the season gets underway.  If you've put off your seed order until now, you will find seed houses have sold out of some popular varieties.  Tools that aren't clean, sharp, and in good repair will make your end-of-winter cleanup and spring prep work harder.  Now is also the best time to get annual maintenance done on lawn mowers and rototillers.  Shops can do any work on your equipment in a few days.  When the warm weather comes, the turnaround time can stretch to several weeks.
Clean up fallen branches.  The two wind/rain/sleet/snow storms in mid- and late February left yards littered with downed branches and even trees.  If you remove debris while the ground is still frozen, you'll prevent leaving footprints that add to soil compaction later.  Compacted soil lacks the oxygen to allow plant growth.
Pruning time, but stay away from spring blooming plants.  While the ground is frozen, do go into your yard and remove any branches on trees and shrubs damaged by winter storms.  You can safely prune most fruit trees and shrubs (blueberries, raspberries) now.   Avoid pruning any spring-flowering trees and shrubs.  They've already set their buds and all you will do is reduce the number flowers that will bloom.
Prune back and remove rose canes and vines that were left in place last fall.  They need to go away so the new growth can emerge in late March and April.  Do not be hasty in removing protective mulches or covers from roses, perennials, bulb beds and so forth.   There's no way to predict the date of the last snow or hard freeze, and those mulches are your best protection.
Plant dormant roses as soon as the ground can be worked.  If you are thinking of planting new trees or shrubs this year, remember the earlier you can get them in, the more time they will have to establish their roots before the blistering heat of summer.
Pollinators are all in the news because we've been awakened to the drastic drop in numbers of everything from native bees to Monarch butterflies.  Bees are being killed not by some single pesticide (products to kill insects) or herbicide (products to kill unwanted plants and weeds) but, rather, by the accumulation of chemicals that we put on our lawns, gardens and trees, and in our waterways.  Since pollinators are responsible for one third of all the food you eat, cutting down on the use of lawn and chemicals is a vital first step.
An equally important step is planting food sources – pollen-rich plants for them to live on – while allowing a few weeds to survive too.  Milkweed is the only plant that monarch butterfly young can eat as they grow from a caterpillars to butterflies.  So, when you are planning your garden this year, make certain to include as many pollen-rich plants to feed your friends and even a few weeds to give them a start in life.   We all need to eat, and having butterflies ornament our garden is a more than just a pleasure.
Think native.  Finally, not all flowering plants provide useful pollen.  Many plants imported to North America from other parts of the world produce pollen that our insects cannot use.   Moreover, some of the new cultivars have had the pollen bred out of them.  They have pretty flowers for us to look at, but they're a sterile environment for insects.  To be certain you are offering a good source of food, plant native some plants such as butterfly weed (a very pretty flower made prettier by its visitors), Echinacea (cone flower) and rudbeckia (black eyed susan).  And don't forget the bright red flowers like red salvia or bee balm (monarda) for the hummingbirds.
Earlier Years March Hints:
Pruning.  While the ground is frozen, finish up your winter pruning.  Remove the branches of hydrangeas that bloomed in late summer and fall as well as summer and fall flowering clematis.
Prune out broken or diseased tissue, crossing or rubbing branches and inward growing stems on all fruit trees, bushes and grape vines.  Remove the old canes from June bearing raspberries and up to a third of old growth on blueberry bushes
Bring spring indoors.  Force branches of witch hazel (which smell great) forsythia, quince, cornus mas, fruit trees and magnolia.  Remember when you are cutting branches, you are actually pruning, so keep the plant's shape in mind.  Make a fresh cut and place the branches in 3 inches of warm water with a preservative.  Change the water regularly to prevent the growth of bacteria which can inhibit blooming.  When the buds open, bring the branches into a bright room and enjoy some early spring.
Once the snow has melted, clean up the debris from winter storms. Then get a soil test for each area of your yard—lawn, vegetable garden, flower garden—if you haven't had one in the last three years (http://soiltest.umass.edu/). When the lawn has dried enough to allow you to walk on it without creating impressions in the soil, rake it to remove dead and matted grass.   Thin or bare spots in the lawn can be 'frost seeded' by simply spreading seed over the area.  The freeze and thaw cycle, or even a late snow, will ensure that the seed is worked into the lawn.  Spring is not a good season for a complete lawn makeover.  Weed seeds that are present will more quickly take advantage of the conditions you create for the grass.
And don't be hasty in removing winter mulches from roses and tender perennials.
The vegetable garden.   Do not start working soil too early before the winter moisture has dried.  Soil is ready to be worked when it crumbles when lightly squeezed in your hand.  If this winter ends and the snow now on the ground melts, you may be able to plant peas, spinach, many oriental greens and swiss chard at the end of March.
While snow covers the ground is the time to start seeds for this year's garden.  Under grow lights you can start onions, leeks, broccoli, and cauliflower now. For your flower garden, sow seeds of geraniums, petunias, snap dragons, begonia and coleus. 
Wait until the end of March (or roughly 6-8 weeks before the last frost) to start tomatoes, peppers, eggplants and herbs such as parsley, sage, oregano—but not basil until the end of April.
Put aside the seeds of leafy crops like salad greens, kale, oriental greens and chard; the root crops like beets, carrots and turnips; and beans corn, peas and summer and winter squash—all of which are happier if they are not transplanted.  Double check the seed packets to be certain that you are not planting seeds until the soil is warm enough for that variety to grow.
Take a break for the Flower Show.  The spring we are all pining for will be on display for 5 days (March 12-16) at the Boston Flower and Garden Show.  Exhibit one of your prize houseplants and see how great it looks with a blue ribbon attached.  Listen to the speakers, talk to the exhibitors, inhale the scent of mulch and growing plants.  Then go home charged up for another season of gardening—as soon as the snow melts!
Previous Years Hints
March 2013
 Repot Houseplants Now.  Days, even indoors, are getting longer and houseplants feel that too.  Now is a good time to report them, removing any soil with salt build-up (the crusty stuff on top) and some of the old soil around the roots.  The pot should be only 1-2 inches larger than the current pot, clean and filled with an appropriate soil mix.  Most houseplants are happy with commercial or homemade potting mixes, but I add sand to the mix when transplanting succulents or cacti and small bark chunks to orchid pots.  Once securely in the new home, water then with a diluted fertilizer solution to help them settle in and get off to a growing start.
Count before you Sow.  If you have your vegetable or flower seeds and are anxious to get going, check the packages or online instructions for the best time to start.  It is generally not safe in Southern New England to assume the last frost date will have passed before June 1.  Hot weather crops want warm soil (at least 70 degrees) and warm air temperatures.  Last year, the Mass Hort Garden-to-Table vegetable garden lost melon seedlings when the temperature dropped into the 50's for a couple of nights in early June.  It makes no sense to start tomatoes in early March and then keep them indoors for three months before they can safely go in the ground.  Wait until April to start  most vegetables and flowers.
Squeeze before you Sow.   Traditionally pea planting time in New England is St. Patrick's Day.  I think it may be delayed this year.  Our three weekends of snow have left the soil covered with a lovely white blanket which, when it melts, will leave the soil too wet to plant immediately.  The home gardener's test is to take a small handful of soil and squeeze.  If it holds together as a wet clump, or heavens forbid, water squeezes out, you need to wait and hope for sunny dry days.  Seeds put into cold wet soil will rot.  Soil ready to plant should crumble apart like chocolate cake.  Working wet soil with tiller or spade will destroy its structure.  But as soon as it is ready, plant peas and turnips, onion sets and spinach, salsify, cabbage and lettuce.
Strawberries.  Late March is the time to set out your strawberry plants.  If you didn't prepare the bed last fall, do so as soon as the soil can be worked.  Or, start a new raised bed by creating a bed 8 (or more) inches deep with a mixture of good soil and aged manure or compost.  The soil should be tested and have a ph of 6 or less, as strawberries do best in soil that is slightly acid.
Make the holes 12 inches apart and about 8 inches deep, then create a small mound of soil in the hole.  Fan the roots over the mound so they are spread throughout the hole.  Be certain the crown of the strawberry is placed so that it half under the level of the bed and half above when the soil has been firmed in place.  This way it will not be likely to rot or smother.  Water thoroughly and mulch.  Plant rows three feet apart.  Heat-treated shredded straw makes an excellent weed free mulch that also keeps developing berries clean.
Roses.  It is too early to remove the protective mulch you put around your roses last fall but, as soon as the soil is ready to be worked, it is the right time to begin planting dormant roses.  Dormant or bare-root roses come with the roots exposed and need to get into the ground early.  Dig the hole wide enough to spread the roots out, deep enough to plant the bud union (the bump where the hybrid variety you want is grafted onto a hardier rootstock) is two inches below the level of the bed.  Creating a soil mound and draping the roots over it will allow you to check the height as you work.  Half-fill the hole with soil, patting it down with your hands.  Add water and, when it has settled, continue filling the hole.  Firm it again, add more water and make certain the bud union is still 2 inches below grade.  Then create a saucer using soil to form a lip just outside the root zone.  Now you can water your new rose without the water or soil running off.  But don't feed the rose until the roots have had some time to establish themselves.
Get Ready.  Send your mower and tiller in for tune-ups now if you didn't in the fall.  Finish sharpening your pruning tools, we will have a lot of clean-up including pruning to do after the snow has melted.   And look for new ideas, plants and products at the Boston Flower & Garden Show.
The ground is still frozen but planning your garden should be well underway. Your flower and vegetable seed order should be arriving soon. Check the packet for advice on when to start seeds. Starting them too early often leads to leggy or weak seedlings from having spent too long waiting indoors for warm weather to arrive. Use only sterile soil mixes to prevent damping off of seedlings.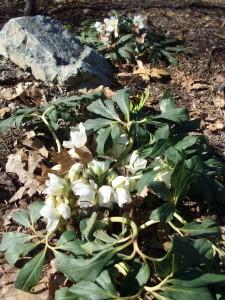 Take a walk around your yard (staying off frozen ground) and enjoy the earliest flowers. Witch Hazels (Hamamelis) are in bloom and cornelian dogwood (Cornus mas) are close behind. As snow cover gives way look for hellebore blooms to put in an appearance along with the early bulbs such as snowdrops, Siberian squills and crocus.
If you had a lovely blizzard of moths last November or December around your outdoor lights, your plants will soon to be under attack. That blizzard was winter moths — an unwanted invader of our land — who between mid-March and late April will hatch from eggs laid in the bark and crawl into the leaf buds of many of our trees. Once there, safe from any pesticides we may spray on them, they will chew away at the new leaves. They seem to particularly favor oak, maples and fruit trees but will eat almost anything they encounter including roses and perennials. After the leaf buds open, the mature caterpillars will spin threads and be spread further by the wind. Appropriately timed sprayings can reduce their number and the damage to your plants. Contact a state-certified arborist to spray your trees particularly if they have been weakened by infestations in the past years. For more information about treatment for winter moths, see this article.
Your houseplants should have awakened from their winter slumber. If you haven't already, begin fertilizing to feed the new growth. Don't forget to keep the humidity up with misting or pebble trays—our homes remain very dry as long as the heating systems are on.
Your best plants deserve to be shown at the Boston Flower and Garden Show. There's a category for almost every plant in your home. Take a look at the Amateur Horticulture entry list under Blooms! on MassHort's website and start primping. A careful cleanup, from washing leaves with warm water to removing imperfect leaves and errant dirt and debris, is the path to a shiny ribbon. Entry day is March 22, 12 noon to 8 p.m. at the Seaport World Trade Center.