Horticultural Hints – August
August 2017
When is the right time to prune hydrangeas? It's a great question, and the answer is simpler than you think.  If your hydrangeas bloomed in June and are pretty much finished now, prune immediately.  These plants are blooming on "old" wood — last year's new branches.  Cut the stems that had blooms down close to the ground.  Leave others to continue to put food into the roots.  New branches will begin growing quickly and will set buds before winter (which is why they may not bloom at all if we have a very hard winter).
Hydrangeas that do not bloom until August or later are blooming on this year's new wood.  Do not trim them back until late in the winter (March) because they will set their buds on the new wood next year—making them later, but more reliable bloomers after bad winters.
Oakleaf hydrangeas (our only native hydrangea) also blooms on old wood so cut them back as soon as blooming is finished, for most of us that is soon.
Finally, if you have "endless" blooming hydrangeas, deadhead throughout the summer, cutting the stem just a couple of inches below the spent flower   For maximum flowers, do not prune the stems back to the ground until has been growing in your garden for two or three years.  At that time, the plant will benefit from new wood.
Despite July's generous rains, watering may be needed in containers where limited room and exposure to heat and sun from all sides mean they dry out quickly.  Check containers by wiggling your finger down in until you reach the second knuckle looking for wet soil.  If it is dry, water until it comes out of the bottom of the container.  And never leave pots sitting in water-filled saucers as this can lead to root rot.
Trim back leggy growth on annuals or any tired looking plants.  Then give the plant a light feeding of liquid fertilizer to have fresh blooms later in the month. 
In the vegetable garden some of the thirstier varieties and newly sown fall crops may also need water.  Some vegetables such as squash and peppers may stop producing new fruit if the plant is allowed to dry out. 
Tomatoes hate dry spells, but remember that too much water will lead to "cat cracking" in ripening fruit.  Once the tomato starts to color, it can no longer grow larger and the skin breaks open.  The damage is only cosmetic and the fruit is completely edible.
Keep harvesting regularly.  If you'll be away, invite a friend to help herself.  Many plants stop producing if the fruit matures and begins to set seed.  If you have excess produce at any time, contact your local food cupboard to find their out their distribution days so you can share your bounty.
Plant seeds for a fall harvest early this month.  As you remove vegetables that have finished producing, use the space to sow beets, radishes, turnips, chard, spinach, arugula, lettuce and even peas in their place.  A single layer of floating row cloth over the new plantings will provide shade which is welcome on the hot days of August.  Always keep seedlings well watered; they have very shallow roots.
It's the time to buy spring bulbs while supplies at their best.  Check out catalogs from established producers such as Scheepers and Brent & Becky's for high quality and great selection.  If you wait until it's time to plant, you will find a much reduced supply and many fewer varieties.
Shopping for plants in August can be frustrating.   Their price is often tempting as nurseries and garden centers seek to pare their stock before autumn, but choices are usually limited.  Take in the sales, but be cautious.  Carefully examine plants before buying to eliminate any that have suffered from their prolonged stay in the nursery pot.
July's rains – more than four inches total over 17 days – were a gift for gardeners.  Unfortunately, they were also a blessing for the grubs in your lawn.  When the soil dries out and stays dried out for lengthy periods (as happened last year) grubs often die from lack of moisture. This year grubs are likely to be back.  But before you begin treating your lawn with one of the chemicals sold for that purpose, be aware of what you are doing.  Products that actually kill grubs are dangerous to you, your family, pets and every other living thing that walks across your lawn.  Lawns can be reseeded and fertilized in the fall repairing any damage without danger to anyone.
Strawberry plants will have sent out many runners (baby plants on a leash) by now.  There are two ways to turn them into bearing plants next year.  One, fill small pots with a mixture of sand and soil and put them down near the mother plant.  Lift any plantlets, and using unbent paperclips, hold them in place in the pot.  After the new plant has developed roots (try a gentle tug), cut it connection to its mother.  Plant them in their new home by the of the month to give it time ready itself for winter.
If you don't insist of a neat bed, allow the new plantlets to root themselves wherever there is room in your garden and watch your harvest multiply next year.
Previous years hints, beginning with those from 2016: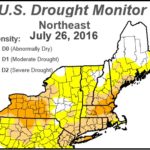 It's official now: it is dry, dry, dry.  Like many areas, we seem to be missed by every storm going north or south of us.  But even those getting a quick dousing from the occasional 'pop-up' thunderstorms aren't getting nearly enough. What's a gardener to do?
First, respect watering bans.  Towns are worried about having enough water for people –to drink, cook, shower and flush.  Minimize your home water use any way you can.  When you water outside, water early in the day when the air is coolest to lose the least to evaporation.  Don't water at night when water left on leaves can promote fungus diseases.
Second, prioritize your watering.  Water your vegetable garden: they are annuals that are feeding you and your family so it should be a priority.  I note that my own town, Medfield, specifically exempts vegetable gardens from its otherwise severe ban.  If it is allowed, water new trees, shrubs and perennials.  They lack an established root systems and need the extra help.
Third, don't use water unwisely.  Put away your sprinklers or, if you have an in-ground system, don't turn it on.  Sprinklers waste water by landing on the wrong areas and by evaporating before it even hits the ground.  When you water, do so less often but deeply—shallow watering leads to shallow roots, and they will dry out quickly on hot days. The top couple of inches dry out quickly on sunny 80 and 90 degree days. Dig down with a trowel occasionally to make certain the water is going down at least 4 inches.
Finally, now is not the time to fertilize lawns, trees or shrubs.  Plants should never be fertilized when water is scarce. Fertilizing trees and shrubs encourages them to put out new growth that will not have time to harden off before winter freezes cause damage.  Fertilize in the fall.
Garden maintenance.  Cut back perennials that have finished blooming.  They'll look neater and many will surprise you with a second bloom when prevented from setting seed the first time.  Keep picking your vegetable gardens.  By picking, you are preventing your plants from going to seed so they keep producing produce.  If you have more vegetables than you can use, offer it to friends or call a local food cupboard and ask for their drop-off days.
Replant this month for a more bountiful fall crop: green beans, peas, cucumbers, carrots, kohlrabi, summer squash, early sweet corn, green onions.  Water seeded areas by hand daily until the new plants are up and a couple of inches tall.  Cover the newly planted seeds with row cover to help keep them cooler and out of pecking range of birds.  You can take the row covers off when the plants are several inches tall.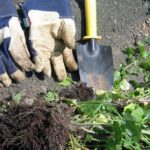 Keep weeding!  Pull them or dig them out, roots and all.  Weeds allowed to set seed ensure that you will be working harder next year.  And, because your weeds likely are making seeds this month, go the extra step and put them in the trash, not compost.
Save our monarchs.  Some very nasty weeds are coming into seed at this time of year.  One of the worst of them is swallowwort, a relative of milkweed that confuses monarchs looking to lay their eggs.  While milkweed both feeds and acts as nursery for monarch butterflies, swallowwort is a death trap with toxic leaves.  In August, swallowwort produces seed pods.  If you see them, cut them down, bag them and send it to the trash.  Mark the spot and next year start early mowing or cutting it down as it emerges.  If you keep at it, swallowwort will eventually die.
Enjoy your hydrangeas.  It was a tough year for spring-blooming hydrangeas.  February's warm weather fooled plants into producing buds that were then killed by April's cold snap.  Fortunately, ever-blooming varieties were less affected and will more dependably provide you with flowers this August.
Spring bulbs.  Any remaining foliage should be cut off and removed now.  If you had areas that did not bloom well in the spring, the problem could be that the bulbs divided and are now too crowded.  Or if you weren't happy with an area of your yard this year, dig the bulbs up carefully now, dry them in a garage or garden shed and replant them in the fall. If you're thinking of adding bulbs for next spring, this is the month to order those new bulbs for fall planting.  The selection only narrows as summer turn to fall.
Previous August Hints
Watering bans, hot days, and your garden.  This is the sad tale of a summer with too little rain for most of us.  Combined with the complete or partial bans on watering gardens and lawns in most towns, gardeners are stressed trying to keep everything flourishing.  My advice is to take a few lessons from those facing the West Coast multi-year drought.  First, skip watering your lawn; it may brown up but it will return, with cooler temperatures and fall rains none the worse for the experience.
Second, water new plants first — trees need to be watered regularly during their first two to five years after planting, shrubs at least one year and perennials for two to three months.  Third, hook up a rain barrel to a downspout and watch as a quarter inch of rain on the roof gives you 50 gallons of rain water for your plants.  Finally, choose new plants with water in mind.  A little research will show you that not only succulents, but many other plants such as hostas, heucheras and epimediums tolerate dry soil when planted in the shade.   Many New England standbys such as asters, rudbeckia (black-eyed susans), salvia and dianthus thrive in sunny, dry sites
Keep weeding.   Weeds keep growing, stealing water, nutrients and sunlight, and producing seeds to bedevil you next year.  Stop their life cycle by uprooting them now.  Hand weeding is the order of the day in flower beds and vegetable gardens in order not to damage surface roots with tools.   Spraying with herbicides will damage nearby plants as well as the soil organisms that play an important role in the growth of the garden.
Hold the food!  By mid-August you should no longer be fertilizing any perennials, trees and shrubs.  New growth the plant has put out this year needs time to harden off before the cold weather begins.  Keep fertilizing your annuals: you want them to bloom and grow until they're hit by frost.
Replant in the vegetable garden.  Time to put in seeds for fall crops of lettuce, spinach, arugula, green beans, chard and leafy oriental vegetables.  On years with mild autumns we've enjoyed fresh greens from the garden for Thanksgiving and (with some protection) Christmas.
Buy bulbs, but don't plant them yet.   Now is the time to order bulbs from the catalogues.  I love my local nurseries but they lack the best selection of sizes, colors and varieties.   Bulb-specific catalogs allow you to buy bigger bulbs for bigger blooms or more 'landscape' size bulbs to cover a greater area.  But don't even think of planting them now.  The soil is too warm for most bulbs until sometime in October.  Daffodils can be planted in November when they still have time to grow the roots they need for glorious blooms next spring.
Lawn renovation.  Late August is prime time in New England for restoring lawns.  As the days get shorter and cooler, lawn seeds germinate happily while most weeds won't, with the result you get grass and not the new crop of weeds that accompany spring seedings.  Buy quality seed; cheap seed may be an annual grass that dies in the winter, full of weed seeds, or even a grass that does not perform well in New England.  Spend a little time on the Internet or go to your local nursery (not big box store) to look at the new varieties of seeds that need less water to thrive, are more resistant to disease, and need less frequent mowings.  Those three benefits will make an 'expensive' seed cheaper in the long run.
Previous years hints: August 2014
First the good news. It's all about the weather. Despite a few days in the 90's, the temperatures have generally stayed in the 80's and even the 70's which made the gardens happier, particularly for those who were not receiving rain on a regular basis. The rain, even at my garden where storms too frequently seem to dry up or change direction just before reaching the property line, has been regular enough to keep the, the flowers blooming and the vegetables coming.
Yards and gardens are full of color. The oxydendron (sourwood) trees are in full bloom as are Rose of Sharon (the hardy hibiscus) and many hydrangeas. Roses are showing off now along with clematis and trumpet vines. Summer annuals and perennials are reaching a peak. Looking closely in many yards, you will see the call to help pollinators such as bees and butterflies has led many gardeners to tolerate patches of butterfly weed, milkweed, Queen Anne's lace and other host plants. More and more people are recognizing that some of the plants we bought are not good for the environment while the ones we once labeled weeds are vital.
The bad news. Despite a nasty winter that many of us have tried to forget, the populations of destructive (and dangerous) insects seem to have not been affected. Biting flies, hornets, wasps, mosquitoes and ticks are making every trip out into the yard miserable for humans and some of our pets. Our gardens are fighting off slugs, snails, lily leaf beetles, Japanese beetles and aphids of every color. In the vegetable garden there are Colorado potato beetles, Mexican bean beetles, corn borers, squash borers, cucumber beetles and cabbage worms, most of whose appetites stray far beyond the plant whose name they share. Mildew is showing up on phlox and squash, black spot is on the roses, and early and late blight on the tomatoes. August is the time for Asian longhorned beetles to come crawling out of the trees, check maples, birches, elms, and willows for exit holes (see photo) In the Berkshires, the emerald ash borer has made its appearance.
The other problems that made it through the winter include the invasive plants that we need to keep in check. Everyone should know on sight both pale ( whitish flowers) and black (deep purple flowers) swallowwort (see photo), oriental bittersweet and burning bush –if you can't uproot it completely, prune them back to remove the flowers or seed heads and slow its spread.
In the vegetable garden. By now you should have planted autumn crops of spinach, lettuce, beets, quick carrots, green beans, turnips and swiss chard. Check zucchini every day because they quickly become too large and tough skinned. Green peppers left on the plant will become red peppers but cucumber and green beans become too large and inedible. Harvest tomatoes and corn as they ripen (does there anything say summer better than fresh tomatoes and sweet corn?) Watch for all those nasty bugs and diseases, treat them organically (you'll be eating those plants!)
If you spot early or late blight on your tomatoes, leaves turning yellow with black spots, trim them off with pruners that you wipe frequently with sanitizing hand wipes or dip into a solution of alcohol in order not to spread it. Place all clippings in trash bags and send them to the dump. Diseased plant material should never be composted or left in the garden where it will winter over to attack your plants next year.
In the ornamental garden. Watch for insect and disease on annuals and perennials. In my yard the deer have decided they prefer certain garden plants to what they can find in the woods and fields. I spray monthly with a garlic and putrefied-egg-based deer repellent that discourages them from further forays.
Continue to deadhead annuals and perennials in order to keep the flowers coming into August and September. Prune roses after blooming to encourage more flowers.  And keep weeding so you will have fewer weed seeds to bedevil you next year.
Horticultural Hints for previous Augusts….
In the Vegetable Garden.  Harvest daily to prevent squash and cucumbers from getting too big and seedy, and collect other vegetables at their peak.  Plant lettuce, spinach, chard and kale now for autumn harvest.  Begin your vegetable garden clean-up as crops finish.  Compost, aged manure or shredded leaves added anytime from now until the soil freezes to unplanted areas will make for a better garden next year.   Late this month, plant winter cover crops to hold soil, reduce weeds and add organic matter to soil.
Harvest herbs before their flowers open.  Do so early in the morning and then freeze or hang them to dry for winter use.  Parsley and basil can be sowed in pots now to grow on a sunny windowsill during the winter.
In the Flower Garden.  Deadhead perennials and annuals to keep them blooming and to reduce the potential for disease. Do not cut back woody plants (such as roses or hydrangeas) now.  Begin clean-up of gardens as annuals and perennials pass.  Improve the garden soil by adding compost, aged manure or shredded leaves to any empty areas.
Stop fertilizing roses to prevent additional growth which will not have time to harden off.
Take cuttings from coleus, geraniums and begonias to grow indoors over the winter.
If the heat and humidity bring on a plague of mildew, a spray of one tablespoon of baking soda in one gallon of water works on roses and many perennials.
Don't allow weeds to set seeds (here or in the vegetable garden) because they will germinate in greater numbers next year to cause you more problems
Lawn renewal or renovation.  Late August is the time to work on a lawn in need of attention.  Annual weeds do not germinate during the shorter days so the grass seed has little competition. Start with a soil test.  You don't know how much lime or which fertilizer to add without reliable test results.  Go to http://soiltest.umass.edu/ordering-information for instructions.  Do it today and you'll have the results before you need to get started.
Prepare the lawn for overseeding with a stiff raking to remove any dead plant material and to rough up the soil surface.  Use a high quality seed mixture appropriate for the area – sunny, shady, high traffic – and consider new eco-grass mixtures that reduce the need for chemical fertilizers and lawn upkeep, even reducing mowing!  A weed-free light mulch applied after seeding will help keep the soil moist and
If you are going to lay sod, have the area prepared before the sod arrives and then put in down immediately.
Tree Check.   Trees that begin coloring prematurely or losing leaves early are showing signs of stress.  If you do not know the source of the problem, bring in an arborist who will be able to diagnose the problem and offer a solution.
Houseplants.  Begin bringing houseplants back indoors as the days shorten, but always check them first for any 'wildlife' they may have picked up.  Wash them with a strong stream of water to remove any surface pests. An application of an organic drench to the soil can prevent bringing problem insects indoors.  It's a small precaution that can prevent more serious problems this winter.
Previous years' August Hints:  August 2012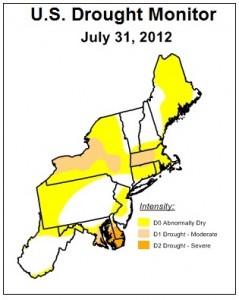 Long term effects of drought.  The July drought was broken for most of us last week, but the effects will likely go on.  One or two inches of rain allow lawns to recover and perks up annuals and perennials, but does little for the trees and shrubs.  These plants have exhausted their reserves over the very hot weeks and will need substantial rain in the next few months to prepare them for the winter drought.  (Moisture is generally unavailable to plants even if there is a foot of snow above ground.)  Any trees and shrubs put in this year or late last fall are still establishing a complete root system and should be being watered weekly until the ground freezes.
Replant the vegetable garden.  You are up to your elbows in zucchini and squash, the green beans (or the bean beetles) have overrun your garden, and the tomatoes will soon overwhelm even the greatest enthusiast.  But now is the time to replant your garden for the fall.  We are pretty much guaranteed two frost-free months in August and September and, during that time, you can enjoy more from the garden.
It's not too late to plant one more row of beans if you choose those that mature in under 60 days.  It's the perfect time to plant a couple of rows of peas, beets, radishes, carrots and lettuce.   All of these crops will survive a light frost, or a not-so-light frost if covered when the temperature is expected to drop.   Kale planted now can be harvested well through the autumn, maybe even for Thanksgiving dinner if we have another mild fall.
Remember to clean up debris from any plant that has finished producing.  Whether it's a bean plant with beetles or a corn stalk with borers, if it was affected by insects or disease, remove it from the garden, bag it and send it to the trash.  Insects lurk where you least expect them—corn borers happily winter over, even in stalks that have been chopped up.  You don't want to give those pests a head start for next year.
Time to evaluate the lawn.  While you should not start work on a new ( or rehabilitated) lawn until the end of the month, now is a good time to decide what needs to be done.  If it is an area frequently used by the family, does it need to be aerated so water and air can better penetrate hard packed soil?  Does it need to be over-seeded to fill in thin areas?  Instead of more grass seed, consider using white clover.  It is much more drought tolerant, seldom bothered by disease or insects and even adds nitrogen to the soil as it grows.  Clover is a traditional part of the American lawn, arbitrarily categorized as a weed only after lawn herbicides (weed-and-feed type products) were introduced.
If your lawn is used primarily to look at ( and mow) consider replacing the lawn with a low growing ground cover such as thyme, ajuga or other 'walkable' perennials that can tolerate occasional traffic, need no mowing and are more tolerant of droughts than grass.  Add a shrub bed across the front of your property where no one ever walks, or build a patio in the back or side yard for your own pleasure as well as for entertaining.  Reducing the amount of unused lawn reduces your weekly maintenance chores as well as the costs associated with them.
Reinvigorating annuals and containers.  Finally when you water annuals, particularly those in containers, remember to add a little liquid plant food.  The timed-released fertilizer you added when you first planted is used up.  To keep the annuals blooming and looking at their best until frost, you need to deadhead and keep them pruned into shape.
Hints from previous years:  August 2011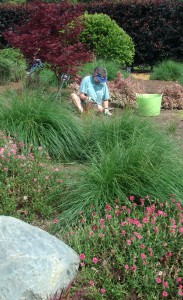 In the garden. Keep weeding! The weed seeds you prevent now are the weeds you won't have to pull next year and for many years after. When removing weeds, put them in the trash – not the compost. And, keep your garden clean. Take off leaves infected with mildew or other diseases and put them in the trash along with those weeds. It is better to sacrifice one plant with persistent problems than to allow it to spread throughout the garden.
August brings the insect hordes, including pest insects. Always treat insects with the least toxic methods available. Most of the insects you see do little or no damage to plants and can be left alone. Those seriously damaging plants can sometimes be removed with a hard spray from a hose which sends them to the ground where they become other bugs' dinner. Others can be hand-picked.
Remove spent flowers from perennials and annuals. Your goal is more flowers, not seeds. Keep the flowers coming by encouraging the plants to use their energy to set buds. To keep your garden looking at its best, cut back any plant that has finished flowering, leaving enough foliage to add energy to the roots but allowing space for the late bloomers to shine. Now is the time to dig and divide bearded iris. Discard any with signs of iris borer infestations in either the leaves or rhizomes before replanting.
In the vegetable garden. Keep picking! If you let cucumbers or squash, beans or any other vegetable over-ripen, the plant will think its work is done and stop producing flowers and setting fruit. For longer production pick smaller squash and cucumbers and keep up with the production of other vegetables. But remember sweet red peppers are green peppers that have been given a little longer on the plant.
Your lettuce and peas almost certainly bit the dust in the 100 degrees temperatures. Replant now and you will have a new crop of lettuce in a month, and more peas in September. You can also replant carrots, beets, green beans and any cold-weather crop such as broccoli and Brussels sprouts with certainty that you will have vegetables before cold fall weather stops growth. In late August, remove new flowers from tomato plants. There's not enough time for them to set fruit and ripen before frost. Removing new flowers forces the plant to devote its energy to growing and ripening the fruit already in the vine.
Harvest herbs early in the day and hang them away from light. Once dried, store herbs in tightly closed jars to protect flavor. Some herbs such as dill can also be frozen for use in the winter.
Container gardens need extra attention now. Keep deadheading annuals and don't be afraid to cut back spreading plants like petunias and verbena to get them back in scale with the rest of the container and promote new flowers. If some of the plants in a pot are cold hardy, think about plants you can use to replace the tender ones that will carry the container well into the autumn,
If you've been on vacation or forgotten to water until the pot has completely dried out, some of your plants will be goners but others may still have a chance. Watering will be difficult: all of the water may run out immediately until you manage to re-wet the potting mix. Small containers can be placed in a large bucket filled with water and allowing it to sit for up to an hour. For large pots, add water slowly by placing a filled two-liter or one gallon jug with a very small hole punched in the side near the bottom of the jug. Remove the cap and, when it is empty, enough water should have been absorbed to allow you to add more water normally.
Stop adding fertilizer to any container with perennials or small shrubs which you plan to winter over. They need to be transplanted into the garden before the end of the month so they can establish roots to carry them through the winter and next spring. If you plan to winter over in the container, stop fertilizing because you need the plant to begin the process of slowing down with the shorter days.
Next year's garden. Now is the time to order spring bulbs. You will have the best selection from any grower if you order early. If the option is available, ask that bulbs not be shipped until October. Tulips, daffodils and other spring beauties don't want to go into the ground until the soil temperature has dropped to 55 degrees and you are turning on your car heater in the morning. Take the time to look at any photos from this spring and judge where more bulbs are needed. When you plant, remember bulbs look best in groups, single bulbs spread out along a border or walkway have very little visual impact. Finally remember if you sometimes have visits from Bambi and Thumper, daffodils and hyacinths are deer resistant, tulips are deer (and rabbit) candy.
While planning where to put new bulbs, look for places where new shrubs and trees would add winter interest to your garden. In addition to evergreens, deciduous shrubs like winterberry holly (Ilex verticillata) and red twig dogwood (Cornus stolonifera) add structure and color while trees such as Japanese stewartia and paperbark maples offer beautiful bark in the winter landscape. Many garden centers have begun discounting plants, but there is plenty of time for new trees and shrubs to settle in before winter.
August 2010
This summer's rainfall – twice the normal amount in eastern Massachusetts – has meant abundant growth on many plants. Enjoy your garden inside and out by cutting a few flowers and some colorful foliage for indoor arrangements. Do your cutting early in the morning, and you'll ensure the longest possible life for your creations.
August is also when we get to enjoy the bounty of our vegetable gardens. Regular picking is vital to keeping the harvest going as long as possible. When Mother Nature is too generous, share the bounty with your friends and neighbors.
Save herbs for winter by cutting them early in the morning and hanging them in a dry place, out of sunlight. Herbs are strongest before they produce flowers and bloom.
The downside of this spell of wet weather is that you need to be extra vigilant in scouting out fungal diseases. These plant diseases can spread rapidly as they are propelled from one leaf to another and from one plant to another during rain or watering. Whether you choose organic or inorganic methods of treating disease, best results occur when you begin as soon as the problem appears and continue until you are certain it has been eliminated or to dispose of the plant. Cut it, bag it and put it in the trash. Don't compost it (the disease may survive the process) or throw it into the woods.
Removing spent blossoms, with or with out cutting back the foliage, will encourage more flowers in August. If your garden is a little too tall or too leggy this year, you can control it by cutting back plants hard after their initial bloom. Instead of just deadheading spent flowers, use pruners to cut back to the next point on the branch where leaf buds indicate a potential side shoot. By cutting back to that point, the plant isn't putting energy into supporting leaves and stem that are past blooming. But whether you deadhead or you prune, you win with a neater and cleaner garden.
If you've been pinching back asters and chrysanthemums, you should stop now. The pinching back you've done should ensure bountiful blooms on compact plants. Flowers delayed too long by pinching late in the season might be hit by an early frost and miss their season entirely, or have a greatly shortened bloom time.
Keep weeding. Weeds keep growing and producing seeds to bedevil you next year. Stop their life cycle by uprooting them now. Hand weeding is the order of the day in flower beds in order not to damage surface roots with tools.
By mid August you should no longer be fertilizing any perennials, trees and shrubs. The new growth the plant has put out this year needs time to harden off before the cold weather begins. Keep fertilizing your annuals: you want them to bloom and grow until they're hit by frost.
It has been a hot, dry summer and many communities have water bans. Whether or not you town limits water use, remember that lawns will recover and annuals are only for one year. Save your watering for trees, shrubs, perennials and the vegetable garden. Trees and shrubs may look good now but, if too stressed by drought, they will be more susceptible to pests and diseases in the future. And remember that light watering will do more harm than good by encouraging root growth at the surface where those roots are killed quickly on hot days. When you do water, soak deeply.
Now is not the time to fertilize lawns, trees or shrubs. Plants should never be fertilized when water is scarce. Fertilizing encourages trees and shrubs to put out new growth that will not have time to harden off before winter freezes cause damage.
If you are growing mixed containers with perennials that you wish to winter over, stop feeding the container now. At the end of August, remove the perennials and put them in the garden or a nursery bed. This will allow them time to put down roots and settle in before the cooler weather stops growth.
Keep up with the harvest in the vegetable garden to keep plants producing. Few things can compare with fresh-picked corn or tomatoes still warm from the vine. Excess produce can be shared with friends, frozen or canned. Consider planting new rows of beets, lettuce and other greens, chard and radishes. These cool weather vegetables will keep growing as the days shorten and the cool weather begins, giving you a fall harvest.
While spring bulbs should not be planted until autumn, now is the time to order for the best selection from the mail order nurseries. Early bulbs, such as crocus, snowdrops (galanthus), rock garden iris, Glory of the Snow (chionodoxa), and striped squill (puschkinia) provide the first evidence that winter is breaking and spring is near. Pick out places in flower beds, then use golf tees or other unobtrusive markers so you can plant without disturbing the roots of sleeping perennials. And when you order, don't forget to include paperwhites and amaryllis for indoor winter blooms.
Visit public gardens on your vacation to get ideas for your home landscape. Type in the locations you'll be visiting plus 'gardens' into a search engine to get a list of possible stops. Plan a trip to Elm Bank to check out the Bressingham Garden, Weezie's Children's Garden, the Italianate Garden and all the rest. In the the All-American Trial gardens, you'll see annuals and vegetables– now at their maturity –that may be for sale in local nurseries in a year or two—if they can pass muster.