I've never set out to generate articles about myself, but sometimes a reporter or a television station takes an interest in what I'm doing and, the next thing I know, there's a story or an interview. Here is a sampling.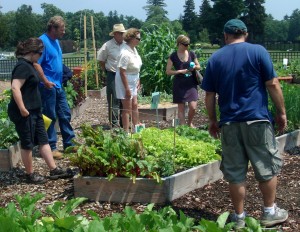 Right: This is a segment on raised bed gardening I did on behalf of the Massachusetts Horticultural Society for This Old House. The segment aired in November 2011. Here is the video. (5 minutes)
Below: Shooting a television interview on healthy lawns in front of my home, July, 2010. Here is the video. (20 minutes)
Finally, here's a link to an interview I did in January 2018 on the subject of adapting your garden to a changing lifestyle.  My thanks to Sandra Lawson of BevCam for making this available.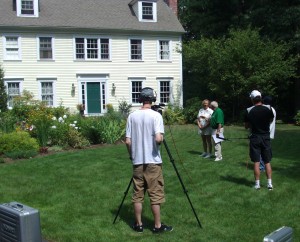 Below, The Wall Street Journal, September 1, 2010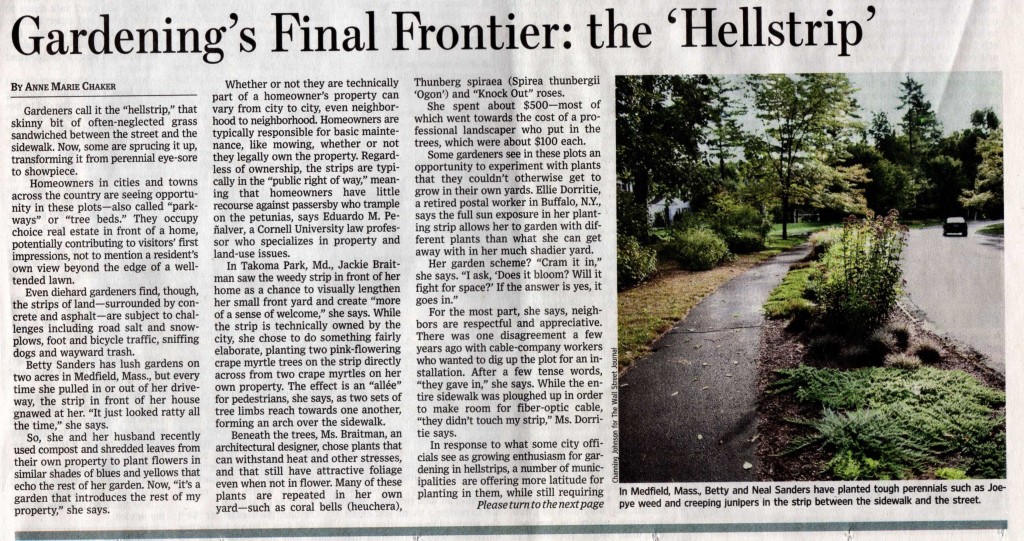 Here are two September, 2011 articles on a vegetable garden I designed for the Massachusetts Horticultural Society (double-click on the article to see it at full size):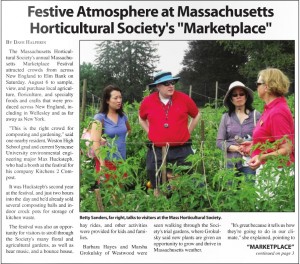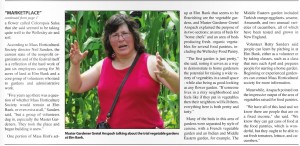 Mass Horticultural Society creates new gardens to inspire cooks
(The Quincy Patriot Ledger and Gatehouse News Service)
If you're looking for gardening inspiration, walk through the new Chefs' Gardens at Elm Bank, the headquarters of the Massachusetts Horticultural Center in Wellesley.
In 16-by-4-foot raised beds, you'll see Mexican tomatillo (the basis of salsa), Japanese seaweed mustard, French breakfast radish, Middle Eastern sesame, Thai white eggplant and vegetables from Italian, Chinese, Indian and South American cuisines.
"You'd be hard pressed to find some of these vegetables in stores," said Betty Sanders, who co-designed the gardens for Mass Hort. "These beds show people they can grow vegetables to cook different cuisines more authentically."
Next to the Chefs' Garden, the Pantry Garden has 22 beds of vegetables, which have yielded a weekly harvest of about 120 pounds of produce that is donated to Natick and Wellesley food pantries.
The Chefs and Pantry Gardens are part of the new Garden to Table program of the Massachusetts Horticultural Society. The program also offers cooking demonstrations at public venues and in food pantries and public libraries, as well as tasting events hosted by professional chefs that will resume next spring.
"Garden to Table is based on the food movement where people are interested in local harvests, different cuisines, nutrition and obesity prevention," said Kathy Macdonald, executive director of Mass Hort. "And in addition to being educational, it's fulfilling a social responsibility."
Although many people associate Mass Hort with flowers (it ran Boston's popular spring flower show for decades), the organization's roots are in vegetables.
"People in Boston in 1829 were trying to improve the quality of fruits and vegetables that were being sold and Mass Hort encouraged them to cultivate new and better varieties," Macdonald said.
In addition to the Garden to Tables gardens, the 36-acre Mass Hort site has a formal Italianate Garden, a children's garden and play area, a trial garden for annuals, a four-season perennial garden and daylily, rhododendron and herb gardens. The site also features walking trails along the Charles River and through woods.
As Sanders led a tour of the gardens, she began at the Too Pretty to Eat Garden. Scarlet runner beans and hyacinth beans ran up an arched arbor and boasted small orange and purple flowers.
"Aren't they beautiful?" asked Sanders, a certified master gardener who also lectures and coaches about gardening. "People say, 'I can't have a vegetable garden because my backyard is too nice or I don't have enough space. We wanted to show people how easily they can grow attractive vegetables in a small space."
On both sides of the arbor, the beds were filled with plants full of flavor and color, such as burgundy okra and yellow and orange nasturtiums and calendula.
In a 2-foot-diameter pot, the Container Garden held a surprising variety: cherry tomatoes, arugula, eggplant, zucchini and romaine. Even corn and watermelon can be grown in a confined area, as demonstrated by the Summer Treat garden.
"People are fascinated by how much you can grow in a small space and that you can grow things you'd never expect, like peanuts," she said.
Sanders offered tastes of a golden cherry tomato and Chinese mei quing choi, a green with large leaves marked by purple veins. Both were delicious. She pointed out a tall thick-stemmed sesame plant with pink flowers, and opened up a pod to reveal the tiny sesame seeds inside.
With several hundred kinds of organically grown vegetables and edible flowers, there was something to please anyone.
Sanders' favorites, though, were the First Time Gardener bed, because it provides a family of four with a summer's worth of more than a dozen vegetables, and the Oriental beds, because she enjoys cooking Asian food.
For the program's second year, Sanders expects to expand the produce, since this season got off to a relatively late start while the raised beds were constructed. In the future, she hopes money will be available to replace the solar panels on the unused greenhouse that now sits in the garden.
"My dream is to have a working greenhouse," she said. "In the meantime, we're happy to give people tours if they visit while we're working in the garden."
Jody Feinberg may be reached at jfeinberg@ledger.com.