Anyone who professes to know about gardening had better be willing to point to their own handiwork as evidence that they understand what they're doing. I've been gardening since my mother determined that I knew the difference between seedlings and weeds in our family's garden and allowed me to the fun of pulling the latter at the age of five. I've had a garden ever since, including one in the tiny yard of our Brooklyn brownstone.
Between 1999, when my husband and I purchased a then-three-year-old property, and 2015, when we downsized to a smaller house, I created a two-acre garden at our home in Medfield.  For 16 years it was a continuous work in process and a testing ground for new ideas. Over all, it expressed my belief that color and beauty in a New England garden is not confined to May, June and July. I also believe that texture and fragrance are as important as color and a garden that requires a lot of maintenance is not a garden with which I care to be associated.
My garden has been on numerous tours. In 2008, it was selected for the Garden Conservancy's Open Days program as one of six distinctive gardens in the Boston area. You can take a tour of the property as it appeared that day by clicking here.
In 2014, we began building our "dream retirement home" and occupied that home in April, 2015.  See "My Garden Since 2015" for a description and photos of our new property.
The photos and commentaries that follow show my garden at different times of the year.  To see any of these photos at full-screen size, just double-click in them.  You'll note I refer to each garden by its 'name'. My husband and I named the beds as a short hand way of identifying which bed we were speaking of.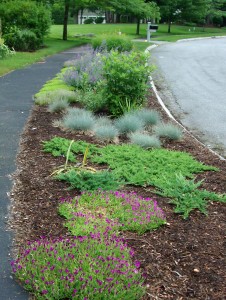 If you have a sidewalk in front of your property, then between that sidewalk and the street is a no-man's land called the 'hell strip'. Snow, ice and chemicals are pushed up on it in the winter; the sun beats down on it in summer.
Because it grew only weeds, I dug up my 120-foot-long hell strip and planted this xeric garden. It's a near-zero maintenance bed that offers unexpected color and texture. As the 'xeric' name implies, it is populated with drought-tolerant plants including a variety of spring bulbs, thymes, grasses and perennials.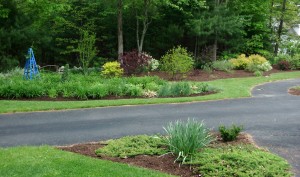 The second garden visible from the street is this shrub bed,'Long island', which is designed to provide nearly four seasons of color and form. Beginning with the witch hazel blooms in February, the garden through a dozen different species. The flowers end in September, but the itea and flothergilla provide brillant foliage into November. This bed is a striking reminder that shrubs – especially natives – are integral to a year round landscape.
The blue obelisk in the photo at right anchors the 'Manhattan' bed. This planting site offers three-seasons of perennials and bulbs, starting with crocus in March, a blizzard of hyacinths in late April, and then progressing to daylilies, asters and late-blooming helianthus angustifolia and, in November, the plumes of miscanthus and Yucca.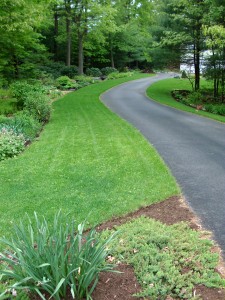 My home lies at the end of a 220-foot-long driveway. I believe in minimizing the use of grass. Perennial borders line either side of the driveway. One garden focuses on natives, another on shade-tolerant cultivars. Behind the perennial beds on the left is a woodland garden comprisied of large rhododendrons and spring bulbs. At the far right is a detail of the shade bed with rhododendrons beyond…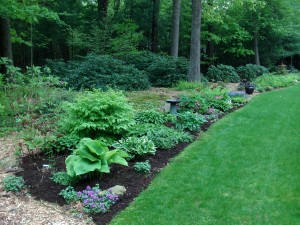 … and, on the near right, the 'upper' perennial border, which is largely astilbe and ferns, interrupted by hosta: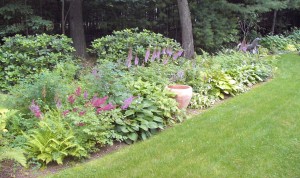 The front of my home is given over to a perennials garden. An oxydendron (sourwood tree) anchors the center of the 'inner' sidewalk bed and unusual evergreen shrubs provide structure to the 'outer' sidewalk bed. Color and interest are provided by a progression of perennials augmented by containers. The photo at right is taken in early May; the one one the left, just a few weeks later. This is a garden that changes strikingly from month to month.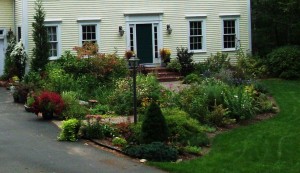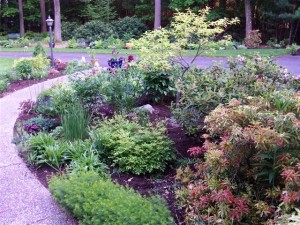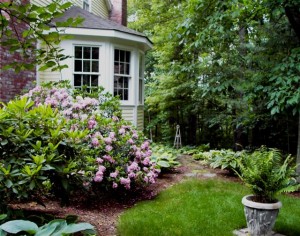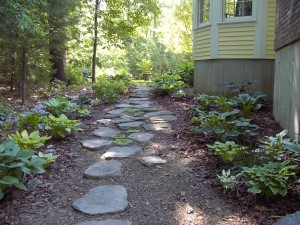 The north side of my home is very shady and has been given over to a hosta walk between the house and the adjoining woodds. In this photo, but impossible to see is a rain barrel that provides the water that keeps this garden green throughout the driest summers. As little as a quarter inch of rain, not enough to wet the soil, will fill the barrel. The barrel is, in turn, attached to soaker hoses which means I keep my hostas happy with virtually no work–or worry during water bans in my home town.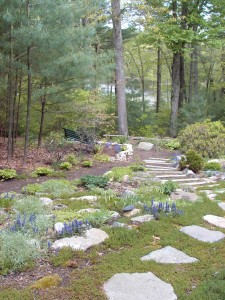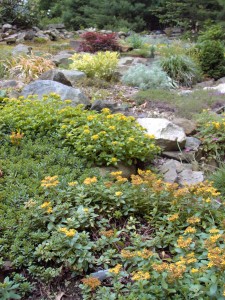 The rear of our property slopes down steeply to a pond, making a conventional lawn or landscape impractical. Moreover, when we purchased the property in 1999, water pouring off the roof was washing away the existing vegetation and soil. We solved the problem by building a series of rock gardens that create level planting sites. Tight ground covers further hold the soil in place.